Take the Sting Out of Spring and Summer
Is the threat of stinging insects, like wasps, bees, or yellow jackets, stopping you from relaxing outdoors? Don't let them! These dangerous insects can easily be removed with the help of our stinging insect control in Seattle. We will quickly reduce activity in nests and eliminate the threat of re-colonization in your yard, so you can enjoy the warm weather outside without the fear of getting stung!
Wasp Extermination & Bee Removal in Seattle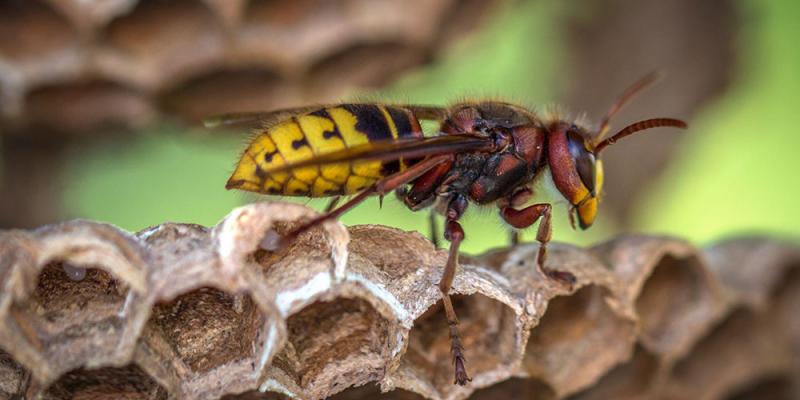 In the Greater Seattle area, there are a variety of stinging insects that are known to invade home properties—some of the most common including Yellow Jackets, Baldfaced Honest, Polistes Wasps, Mud Dauber Wasps, and countless others. So if a nest of stinging insects has your family worried, contact our team of professional wasp exterminators today! We have the expertise, equipment, and experience to get the job done quickly and safely.
Quick Solutions for Stinging Insects
First, we will conduct an examination to determine what species of stinging insect you are dealing with. Once we do, we'll create a personalized treatment plan that includes:
Residual treatments
Preventative treatments
Advice on nest removal options
Recurring elimination treatments
Exterior insecticide treatments
Family- and environmentally-friendly treatments
Get Started With A Free Quote!
After treatment for yellow jackets, wasps, and hornets, activity in the nest will typically subside within 24 hours. However, we ask that you allow three to five days for complete control! After those five days have passed, nest removal is optional, as the stinging insects will not be able to recolonize it later and won't be tempted to return.
*While we do offer individual bee and wasp removal treatments during the summer, our stinging insect control is included as part of our Signature Pest Program. 
We Protect the Honeybees
While Eastside can take care of your stinging insect issues, we do not exterminate honey bees. This is because honey bees are an important part of the natural environment and should be protected. That's why we work with local Seattle beekeepers for safe bee hive removal by relocating the queen and as much of the colony as possible.
Convenient, Same-Day Service
If you are dealing with an underground wasp nest or another form of stinging insect issue and want quick relief, call or text us today at 425-318-7912 to get treatment as soon as today! We offer service within 24 hours through the Seattle area because we understand how urgent any pest infestation and threat can be. Our team always works to provide the most protection for your family and home—don't hesitate to contact your local professionals today to eradicate stinging insects from your property!
Eco-Friendly Stinging Insect Control Methods
Our team of pest exterminators is trained to use the safest and most effective wasp removal methods that are safe for your family and the environment. This can include low-impact green pest control if necessary. If you're in search of effective treatments that are safe for you and the environment, contact Eastside Exterminators today! We will come to remove these outdoor pests from your yard so you can get back to enjoying your space again.
Serving Your Neighborhood Since 1969
We are a family-owned and operated pest control company in the Seattle area that has been providing top-of-the-line pest control services for 50 years. At Eastside Exterminators, we take extreme pride in working with our neighbors, establishing trust, and implementing the highest quality products and systems for your homes. If you are searching for knowledgeable and experienced wasp exterminators to provide you with pest solutions that actually work, we are the team for you!
Don't live within the city limits of Seattle? No problem! We also provide our stinging insect control to the surrounding areas, which include:
What Our Customers Are Saying
"EE did some dirty work beneath the house and did it thoroughly and effectively. Problem solved. Staff were courteous, careful, and neat."
Michael B.
Lake Stevens
"We had a thorough inspection and a whole lot of work done by Eastside Exterminators, both under the house and in the attic. All the work was thorough, on time, per their estimate, etc. They were just terrific."
Catherine C..
Mercer Island
"We used to have rodent issues many years ago and Eastside Exterminators came to the rescue. We continue to use their services and recommend others use it."
Michael F.
Mill Creek