Save 30% or More on Energy With Spray Foam Insulation
Because spray foam insulation provides more thermal resistance with less material than traditional insulation products, homeowners can save 30% or more on their energy bills while at the same time taking a proactive defense against pests. Typically, through savings in energy costs, the investment in spray foam insulation is returned in less than five years!
Spray Foam Insulation in Greater Seattle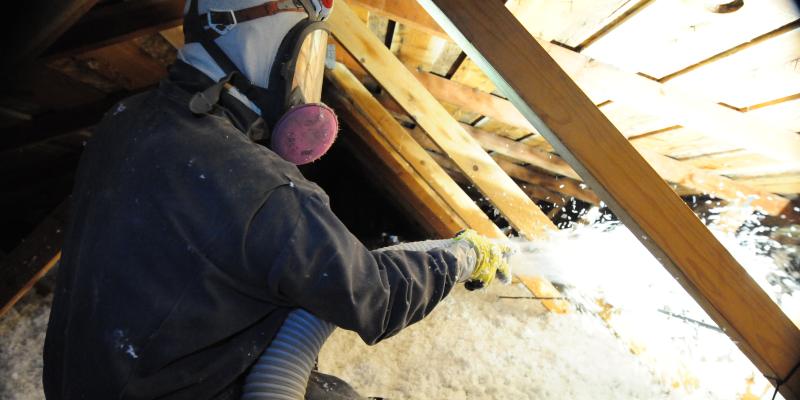 Why Choose Spray Foam Insulation?
SPF (Sprayed polyurethane foam) has an R-value of approximately six per inch, which means it provides a higher thermal resistance with less material. A typical batt of traditional fiberglass insulation only provides an R-value of two per inch. This higher R-value allows for less material to be used and allows for an average energy savings of 30% or more. There are additional reasons to consider spray foam insulation:
Complete Air Sealing
According to studies, air infiltration is responsible for up to 40% of a building's energy loss. Although batt insulation is an effective way to retain heat in a home or building, small gaps inevitably will persist. Spray foam insulation completely seals areas where air infiltration can occur, creating a tight seal from end to end and top to bottom in a wall cavity. This makes SPF (spray polyurethane foam) far more effective as it eliminates air infiltration.
Reduces Moisture And Mold
Spray foam insulation is highly effective at preventing moisture and air leakage, which are key contributing factors to mold growth. Reducing the conditions conducive to mold growth is the most effective way to protect your home or building from mold. Because SPF is air-tight, mold and mildew problems are less likely to occur. Also, spray foam is resistant to water and moisture, whereas traditional insulation can absorb water like a sponge.
Better Air Quality
The amount of dust, allergens, and pollutants entering your living space is significantly reduced due to SPF's air-sealing properties. This promotes better air quality and helps prevent sickness and allergies for you and your family.
Prevents Pest Problems
Because spray foam reduces moisture, it helps prevent the conditions needed for many wood-destroying pests like carpenter ants and termites. Also, unlike fiberglass insulation, spray foam is much harder for rats and mice to use as nesting material.
Inhibits Sound And Noise
Because of its density and air-sealing qualities, foam insulation deadens airborne sound and acoustically seals walls, creating more privacy in a home or office.
FAQ About Spray Polyurethane Foam
Why Choose Spray Foam?
Installing closed-cell spray foam will seal air leakage from your home. Installing foam is a cost-effective way to improve energy efficiency and comfort in your home.
What Type Of Foam Do You Use?
We use polyurethane closed-cell spray foam.
What If I Have A Leak?
Leaks happen with or without foam, and those leaks will need to be repaired just like any other leak. Water will follow the path of least resistance — if there is a leak, it will show itself like any other leak. Foam will not be damaged by water.
Doesn't My House Need To Breathe?
Yes, it does. If your house isn't being built from the ground up and all the insulation in it is foam, you would need to have an HVAC contractor install an air exchange to recycle the air inside the home.
A home built today with the current codes and building standards would have an air exchanger installed at the time of construction to allow for the home to breathe.
Is Spray Foam Safe For My Family?
Yes. Only while the product is being applied does it give off-gassing. Polyurethane closed-cell spray foam does not emit volatile organic compounds (VOCs). Off-gassing from this product has been measured at 0.000 per million. This product is inert.
I would like to find out more. How do we get started?
Our experts are available to answer any of your questions from 7:30 am-6:00 pm on weekdays or 8:00 am-4:00 pm on Saturdays.
Proudly Serving Seattle Since 1969
We have been serving families around Seattle for over 50 years. We are a locally-owned and operated insulation company that prides itself on providing high-quality service for our neighbors. We offer spray insulation in the following locations:
Seattle
Bellevue
Kirkland
Sammamish
Redmond
Renton
Everett
Bothell
Issaquah
Mercer Island
Lake Stevens
Mill Creek
Snoqualmie
Snohomish
Woodinville
Federal Way
Fall City
Monroe
North Bend
Shoreline
Marysville
Lynnwood
Arlington
Kent
Duvall
Kenmore
Auburn
What Our Customers Are Saying
"EE did some dirty work beneath the house and did it thoroughly and effectively. Problem solved. Staff were courteous, careful, and neat."
Michael B.
Lake Stevens
"We had a thorough inspection and a whole lot of work done by Eastside Exterminators, both under the house and in the attic. All the work was thorough, on time, per their estimate, etc. They were just terrific."
Catherine C..
Mercer Island
"We used to have rodent issues many years ago and Eastside Exterminators came to the rescue. We continue to use their services and recommend others use it."
Michael F.
Mill Creek