Protect Your Home With Our Attic Insulation Services
Not only will insulating your home save you money, but it could also protect your family from rodent and wildlife infestations and subsequent damage. Rodents like attics, as insulation is a comfortable nesting area, which may bring in fleas, ticks, and lice. Help protect your home from these invaders today with Seattle's best attic insulation services.
Attic Insulation in Seattle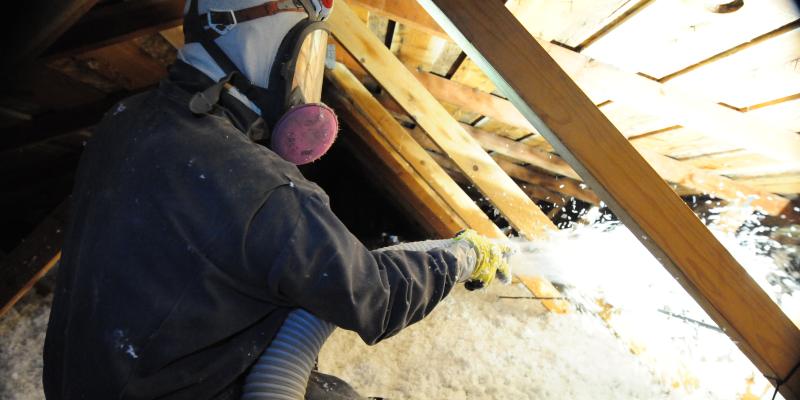 Upgrade or Replace Attic Insulation
If your attic needs new insulation after a pest infestation, then Eastside is your answer. We are a licensed, bonded, and insured contractor and will professionally address all your attic insulation needs. We will replace your old, damaged insulation with brand new insulation in your home — just give us a call today.
We Remove Hazardous Waste and Contaminated Insulation
After pests or rodents contaminate and damage your existing insulation, you can protect your home and save money on energy with new insulation. For cleaning out old insulation, installing new insulation, or adding new layers of insulation, Eastside delivers. We have the technological know-how and state-of-the-art equipment to tackle your concerns. Best of all, we will ensure the removal of hazardous waste and contaminated insulation, as well as sanitize and deodorize your attic.
Our services include:
Complete inspection of attic insulation
Removal of old insulation
Attic cleanup and sanitization
Air sealing the perimeter of attic and around ductwork
General sealing of common attic air leaks
Upgrades as required
Call Eastside Exterminators at 425-318-7912 to learn more about the many benefits of insulating your attic properly, including instant rebates on your attic insulation cost.
Save Money On Insulation Cost
One of the most effective projects you can do to your home to increase energy efficiency is to upgrade your insulation. This is especially true in your attic, because so much heat can escape through a poorly insulated roof.
Claim Your Rebate for Updating Your Insulation
Bringing the insulation in your home up to current industry standards after a rodent infestation can save you 10 to 50 percent on utility bills. Additionally, Puget Sound Energy offers rebates of thousands of dollars for updating your insulation. 
The exact amount of savings on utility bills and energy rebates depends on a few factors, including:
Where you live
The type of heating system you have
The severity of air leaks in the attic and its perimeter
The amount of insulation added
Our insulation specialists will help determine the best insulation material for your home.
CONTACT OUR TEAM OF PROFESSIONALS
What We Do for Our Attic Insulation Services
Before installing new insulation in your attic, our professionals will prepare the space for work. This includes:
Sealing air gaps, cracks, and holes to eliminate leaks
Installing ventilation chutes
Isolating heat sources from cellulose insulation
Once the attic is prepared for new insulation, our professional installers will get to work. How that installation occurs will depend on the specifics of your attic space and the insulation material chosen. Call Eastside today at 425-318-7912 for professional insulation service.
Do We Offer Services in Your Area?
As a locally-owned and family-run company we are proud to offer attic insulation services to Seattle and the surrounding areas for 50+ years. We offer our services in the following locations:
Seattle
Arlington
Auburn
Bellevue
Bothell
Covington
Duvall
Everett
Fall City
Federal Way
Issaquah
Kenmore
Kent
Kirkland
Lake Stevens
Lynnwood
Marysville
Mercer Island
Mill Creek
Monroe
North Bend
Redmond
Renton
Sammamish
SeaTac
Shoreline
Snohomish
Snoqualmie
Woodinville
And more
FAQ About Attic Insulation
How much attic insulation do I need?
Insulation levels are measured by R-Value, which indicates the resistance to heat flow of the insulation. The higher the R-value, the greater the insulating effectiveness. The suggested R-Value for attic insulation is R38, or about 10-14 inches of insulation. The easiest way to determine if you need more insulation in your attic is to poke your head in and take a look. If your insulation is lower than the joists in your roof, then you need more insulation.
Does my attic need to be ventilated?
Proper attic ventilation is important to keep your insulation and attic space dry and healthy. Adequate air circulation prevents heat and moisture from damaging the structure. It also helps prevent the growth of mold and mildew. When attic insulation is installed, air baffles are installed next to attic vents to keep the insulation from blocking air flow.
I need more attic insulation. Will you get rid of the insulation I already have?
In many cases, no. If there is nothing wrong with your existing insulation, we just add more insulation on top of it. However, your current insulation that has been damaged by pests or rodents will be removed and your attic will be sanitized before adding new insulation. In such a case, we vacuum out old, damaged insulation, sanitize and deodorize your attic, then add new insulation.
What Our Customers Are Saying
"EE did some dirty work beneath the house and did it thoroughly and effectively. Problem solved. Staff were courteous, careful, and neat."
Michael B.
Lake Stevens
"We had a thorough inspection and a whole lot of work done by Eastside Exterminators, both under the house and in the attic. All the work was thorough, on time, per their estimate, etc. They were just terrific."
Catherine C..
Mercer Island
"We used to have rodent issues many years ago and Eastside Exterminators came to the rescue. We continue to use their services and recommend others use it."
Michael F.
Mill Creek