Upgrade Your Insulation, Downgrade Your Utility Bills
Are you struggling with high utility bills because of poor insulation in your home? Has your insulation been damaged by rodents? Even with our mild weather, home insulation service is becoming increasingly important for both summer and winter extremes. Here at Eastside Exterminators, we offer home insulation installation in Seattle that will help improve the overall efficiency of your home.
Insulation Contractors in Seattle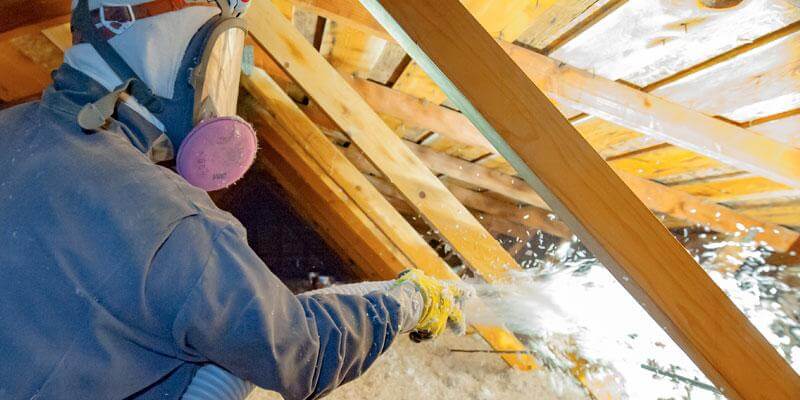 One of our insulation contractors to visit your home to identify any insulation issues you're experiencing, such as inefficiency or damage from rodents. Our professional contractors have in-depth training to replace and install the latest insulation solutions for your home.
We offer the following insulation services in Seattle:​
Removal of contaminated insulation — We remove debris and other material damaged by rodents, and make necessary repairs, all in order to keep rats and mice away.
Replacement insulation — We seal air gaps, cracks, and holes to cut off rodent access.
Energy & carbon footprint reduction — Reducing heating and cooling costs, improving sound control, and preventing rodent and pest infestations.
Attic cleaning or crawl space cleaning — To complete the service, you will need to have the infected area sanitized, disinfected, and deodorized.
Insulation Services We Offer
Effective crawl space installation will reduce the amount of energy you use while keeping your home comfortable. Moreover, it will help protect you from more serious home damage in the future. If you're looking to be proactive and save money at the same time, Eastside offers over 50 years of experience installing insulation in Seattle.
Attic Insulation Service
Not only will insulating your save you money, but it will also protect your family from rodent and wildlife infestations and subsequent damage. Rodents prefer attics, as insulation is a comfortable nesting area, which may bring in fleas, tick, and lice.
Whether it is cleaning out old insulation, installing new blown-in insulation, or just adding a new layer of insulation, Eastside delivers. Our expert insulation contractors have the technological know-how and state-of-the-art equipment to tackle your concerns. Best of all, we will ensure the removal of hazardous waste and contaminated insulation, as well as sanitize and deodorize your attic.
Crawl Space Insulation Service
Just as we insulate the sides and attics of our homes, we also need to provide crawl space insulation. The installation of effective insulation in your crawl spaces can save you up to 25% on utility expenses. Additionally, it helps seal off areas of your house that may otherwise be accessible to problem animals such as raccoons.
Insulation Products We Utilize
Spray Foam Insulation
Spray foam insulation stops drafts and leaks, and make your home more comfortable while reducing your energy bill. It provides more thermal resistance with less material and saves more than 30% in energy per year. We utilize R-7 for Foam and R-3 for Fiberglass.
The benefits of installing spray foam insulation in Seattle are:
Complete air sealing
Reduction of moisture and mold
Better air quality
Pest and rodent prevention
Inhibits sound and noise
Blown-In Insulation
"Blown-in" insulation simply means insulation that is sprayed into the cavities of walls, attics, and floors, rather than cut to size and fit into those spaces. This type of insulation has a shorter installation time, reduced fire risk and noise, and is a way to increase energy savings as well as prevent moisture from coming in.
Many forms of insulation are blown in, including: 
Loose-fill fiberglass
Spray-in foam
Blow-in cellulose
Formaldehyde-free spray foam
Exceptional Local Customer Service
Having been family-owned and operated since our founding in 1969, we know what local homeowners need when it comes to insulation. That's why we offer our customers the most efficient and affordable insulation installation services in the Greater Seattle area. If you are simply overwhelmed by the challenge of finding the best replacement insulation, contact our team of professional technicians today! Our professionally trained and certified technicians will help you determine what steps to take next in order to handle all of your insulation needs with ease today.
Don't Live in Seattle? We Can Still Help!
Don't live in the city limits of Seattle? No worries! We still offer our insulation services to the surrounding areas, which include:
Seattle
Arlington
Auburn
Covington
Duvall
Fall City
Federal Way
Kenmore
Kent
Lake Stevens

Lynnwood

Marysville
Mercer Island
Mill Creek
Monroe
North Bend
Redmond

Sammamish

SeaTac

Shoreline
Snohomish

Snoqualmie

And more
Don't see your neighborhood on this list? Give us a call today at 425-318-7912 to speak with one of our friendly customer service representatives!
What Our Customers Are Saying
"EE did some dirty work beneath the house and did it thoroughly and effectively. Problem solved. Staff were courteous, careful, and neat."
Michael B.
Lake Stevens
"We had a thorough inspection and a whole lot of work done by Eastside Exterminators, both under the house and in the attic. All the work was thorough, on time, per their estimate, etc. They were just terrific."
Catherine C..
Mercer Island
"We used to have rodent issues many years ago and Eastside Exterminators came to the rescue. We continue to use their services and recommend others use it."
Michael F.
Mill Creek