About Eastside Exterminators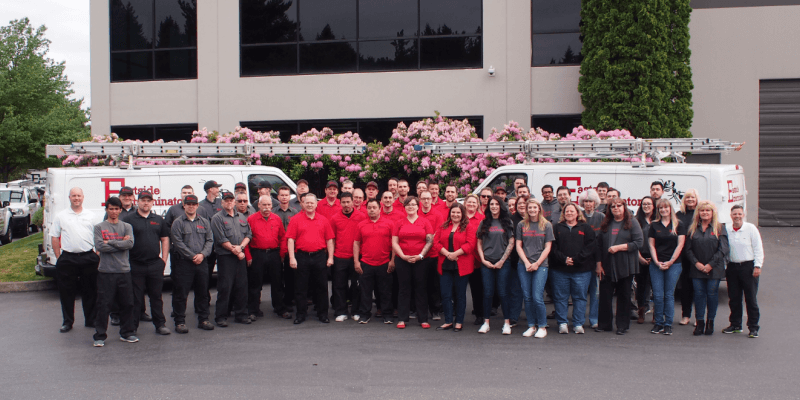 Our Family Protecting Families Since 1969
Eastside Exterminators was founded in 1969 as a one-man operation by Ralph James Townsend, Jr., also known as Jim. Jim took everything his father taught him about pest control to start his own pest control business.
Ralph Sr., Jim's father, was a pioneer in the pest control industry from the early 1940s. He was one of the first three people in the state of Washington issued a pest control license. He was also a pioneer of the industry, helping form the Washington State Pest Control Association (WSPCA), today known as the Washington State Pest Management Association (WSPMA). We are proud members of this association to educate ourselves on all aspects of our industry.
We take great pride in the health and safety of our employees, customers, and our environment. We are members of several national associations that help keep us up to date on the newest technologies, from the best equipment to the latest application methods in the pest world.
Family Focused – Passionate – Committed – Do the Right Thing
Jim retired in 2000 and passed on his years of pest control knowledge and expertise to his daughter, Deanna Townsend. Deanna began working with Eastside Exterminators in 1988 and has put in time in every department of the company, from inspecting homes, running and managing route technicians, and customer service to the inside operations of the company. She and her business partner, Alex Altizer, took over the company in 2000, when there were 12 employees, and have continuously grown the company since to 92 employees and counting.
In 2008 Deanna and Alex opened a new division of Eastside Exterminators with a full-service insulation company called Eastside Insulation. They have become members of the Washington Weatherization Association (WWA) and the National Spray Polyurethane Foam Association (SPFA) to keep pace with all the newest technologies and materials in the industry.
This experience lets us help our customers understand the science behind their home. It allows us to teach and educate our customers so they can enjoy cool summers and warm winters with no pests or damaged/soiled insulation ruining things. This wealth of experience saves customers money and protects the environment.
We are a family here at Eastside, literally — from husbands and wives, mothers and sons, brothers and sisters, to aunts, uncles, nieces and nephews all working together under one roof. We've been through the good, the bad, and the ugly, but at the end of the day, we are family! We take pride in our family and our culture here at Eastside. Our company motto — "Our Family Protecting Families Since 1969" — means exactly that. We treat you like you're a part of our family — the Eastside family!
Our vision — our family protecting families — is rooted in our core values.
Have you seen how we can save you money on our pest control? Check out how you can save with Eastside today!
Family-Focused
At Eastside, we believe exceptional customer service comes naturally when our staff feels respected, valued, and cared for. We do what we love, with people we love, making a difference in the lives of others, with time for outside passions. We'll protect you like family.
Passionate
We are passionate about helping people protect their homes, health and livelihood. This is our mission and we take the responsibility seriously. We're proud of the work we do and honored to be able to do it!
Committed
We are committed to each other and the families we serve. Our commitment shows in our unwillingness to compromise on our three unique characteristics: GPS, or our Guarantee, Proven Process, and Specialized Technicians. We bring that commitment to you with every service.
Do the Right Thing
We say what we do and do what we say, to continually earn the trust of each other and the families we serve.
Your Local Experts
As a locally-owned and family-operated company since 1969, we have built our business based on:
High-quality products and systems
Technological state of the art equipment
Professionally trained, skilled and specialized technicians
Superior level of performance
Doing the right thing for our customers
We pride ourselves on being the best when it comes to pest services in Seattle, but our most priceless compliments are the ones we receive from our customers.
Nationally Certified & Recognized
We work hard to be the best, and we do the right thing for our customers. Eastside Exterminators is proud to be a member of several leading Pest Control associations that support our commitment to quality, integrity, and service. Our technicians are highly trained and specialized in their areas of expertise so we can offer the best service to our customers and solve problems quickly and efficiently. We are proud members of:
NWCOA — National Wildlife Control Operators Association
USPMPA — United States Pest Management Professionals Association
MBA-KS — Master Builders Association of King and Snohomish Counties
WSPMA — Washington State Pest Management Association
Washington Department of Fish and Wildlife
BBB — Better Business Bureau, A+
All of our technicians are fully trained and licensed pest control operators. The majority of our technicians have been with our company for many years, which speaks volumes about Eastside Exterminators, and also indicates their knowledge and savvy in handling pest control issues using our company's unique and effective approach.
You can call or text us at 425-318-7912 today to find out more about our affiliations!
What Our Customers Are Saying
"EE did some dirty work beneath the house and did it thoroughly and effectively. Problem solved. Staff were courteous, careful, and neat."
Michael B.
Lake Stevens
"We had a thorough inspection and a whole lot of work done by Eastside Exterminators, both under the house and in the attic. All the work was thorough, on time, per their estimate, etc. They were just terrific."
Catherine C..
Mercer Island
"We used to have rodent issues many years ago and Eastside Exterminators came to the rescue. We continue to use their services and recommend others use it."
Michael F.
Mill Creek