Marketing Manager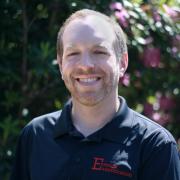 Born and raised in the San Francisco Bay area, John now lives in beautiful Seattle! As our Marketing Manager, he manages all social media, digital marketing efforts, and website content. Chances are, if you're on our site, you're reading something that came out of his creative mind.
If you're looking for John outside of the office, you can find him hiking, going to the beach, exploring Seattle breweries, and gardening. John's also a sports fan— baseball in the summer and hockey in the winter! Ask him about his favorite teams when you see him. You can also ask him about the two years he lived abroad in Istanbul, Turkey teaching English at a middle school.
John's favorite part about working for Eastside is the people he works with. Collaboration and team problem-solving are his favorite parts of the job— and everyone at Eastside is great to collaborate with!
What Our Customers Are Saying
"EE did some dirty work beneath the house and did it thoroughly and effectively. Problem solved. Staff were courteous, careful, and neat."
Michael B.
Lake Stevens
"We had a thorough inspection and a whole lot of work done by Eastside Exterminators, both under the house and in the attic. All the work was thorough, on time, per their estimate, etc. They were just terrific."
Catherine C..
Mercer Island
"We used to have rodent issues many years ago and Eastside Exterminators came to the rescue. We continue to use their services and recommend others use it."
Michael F.
Mill Creek